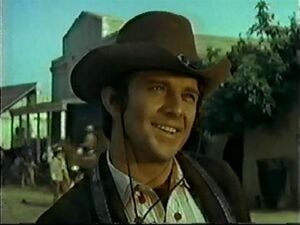 John Lancer was the youngest son of California Rancher Murdoch Lancer and was born around 1850 on the Lancer Ranch in northern California. Between the ages of one and two, he was taken from the Lancer ranch by his mother in the middle of the night as she ran off with a gambler.

While most of his early life is shrouded in mystery, there are certain aspects about his early life that are known. Johnny, as he was called, grew up with his mother and a step-father (who may or may not have been the gambler) but was orphaned at an early age leaving him "free as an alley cat".
Johnny grew up hating his father, Murdoch Lancer, who he had been told had kicked his mother out telling her to "Don't forget Buster here," in reference to himself. After being orphaned by what is considered his mother's death, Johnny spent his time learning how to use a gun becoming extremy fast and proficient. He killed his first man in a gunfight before he was sixteen years old, thus beginning his career as the gunfighter Johnny Madrid.
As Johnny Madrid, he spent the next five years in and around border towns taking jobs as a hred gun. He was well known throughout California and through the Mexican border with a reputation as one of the fastest guns around. Madrid was considered a "mighty expensive gun for hire" saying at one time that $1000 was "listening money" not "gun money"; yet Johnny is also known for taking on causes for no money at all. As a gunman, he was considered by other gunfighters as not having fallen as far as most.
When first seen, Johnny Madrid is in Mexico in a line of men about to be executed by firing squad for being part of a revolution. The Rurale Captain tells Madrid he is next and resolutely, Johnny stood and started to walk toward the exceution area when a Pinkerton detective comes riding up in a carriage yelling for the rurales to "hold up". He tells the Captain that he is looking "for a man named Madrid. Johnny Madrid" and that the life of Johnny Madrid is worth a lot of money. Bribing the Rurales, the Pinkerton goes to unbind Johnny telling him his father wants to see him and is willing to pay him $1000.00 for an hour of his time.
Love Interests:
[
]
Write the second section of your article here. Don't forget to add a category, to help people find the article.