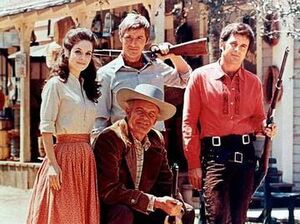 Welcome to the Wiki
[
]
LANCER -- a television Western that ran from 1968 to 1971 on CBS TV. Lancer was not the typical western. Created by acclaimed Western novelist Samuel A. Peebles, Lancer was set in the lawless San Joaquin Valley of the 1870's. The concept of Lancer was an interesting one: Murdoch Lancer (Andrew Duggan) had not seen his sons since they were boys -- the eldest was left with his deceased wife's wealthy family in Boston while the youngest was stolen away in the night by his unfaithful second wife who ran off with with a gambler. Plagued by land pirates, the rancher located his grown offspring through Pinkerton Agents and offered to give them each one-third of his sprawling spread if they would help him to manage it.
The sons agreed to meet their father who had offered them each "$1000.00 for an hour of their time.", The sons appeared as different as night from day: Scott (Wayne Maunder) was a Boston dandy, and Johnny (James Stacy) was the enigma that was the good-hearted gunslinger, Johnny Madrid -- a dyed-in-the wool Westerner, tough and cynical. The characterizations played extremely well against one another, and made Lancer one of the finest Westerns to come along in many a high noon. This one-hour series debuted on September 24th, 1968 on CBS.
So hitch your horse to the rail out front and join us in the Lancer great room
Replace this with the name of your topic
[
]
Write an introduction to your topic here, to explain to your readers what your topic is all about!
Latest activity
[
]